The noisy game room upstairs suddenly fell silent.
Sheng Xiaoyue, who was leaning against the sofa in the living room, was still watching the 8 o'clock soap opera with relish. She was He Qiao's mother, but she was incredibly well-maintained. There were almost no traces of time on her smooth and beautiful face.
She loved to talk and chattered in a lively manner about the bitter scenes on the TV screen. She didn't care if He Xiao was listening as he sat on the other end of the sofa with documents in hand.
"These types of parents were really unreasonable. What's wrong with poor family conditions? Why do they have to force two people who love each other to separate? I say, he Xiao, don't be so old-fashioned when finding a partner in the future…"
He Xiao pushed up his glasses and responded with a smile. Then he noticed the movement upstairs and glanced up.
He was ten years older than He Qiao. He seemed much more mature and stable compared to his naive, younger brother. His temperament was educated and elegant.
Soon, the game room door opened and hurried footsteps were heard. This was followed by the sound of the door opening and closing.
Sheng Xiaoyue looked up. Her face was surprised as she wondered, "What is this kid doing?"
Soon, He Qiao poked his head out from the railing on the second floor while carrying two shirts and shouted downstairs, "Mom! Which one do I wear better?"
He didn't wait for his mother and brother to ask questions and took the initiative to show off, "Mr. Chi asked me to have a late-night meal."
Sheng Xiaoyue's eyes widened when he heard this and said without thinking, "The gray one!"
She saw He Qiao eagerly going back to the room to change clothes and her eyes immediately fell on He Xiao with a surprised expression. "When you said that you wanted to introduce He Qiao to that kid from the Chi family, I thought there would be no follow-up."
He Xiao's tone was gentle. "I heard that Aunt Han was setting up blind dates for Xiao Chi. I thought they were the same age and have similar hobbies and wanted to give it a try."
Sheng Xiaoyue muttered, "I have a small impression of Xiao Chi. Red hair, right? His appearance is good, but he seems to be the same type as He Qiao. There is no upright appearance. If the two of them get together, won't they play crazily?"'
He Xiao smiled and shook his head. "They are still young and it is the time to have fun. They will naturally mature in the future. Don't worry too much."
"Also, it isn't clear if they can play together."
Sheng Xiaoyue quickly put aside her worries. She said goodbye to her son, who grabbed the car keys and hurried out. Then she continued to watch TV with peace of mind.
In the midst of the lively noise, He Xiao lowered his head again and flipped through the documents in his hands.
The crystal chandelier hanging in the living room shed a shadowy light, diffusing over his eyes covered by glasses and deepening the coldness hidden inside.
In the silent night, He Qiao in the gray t-shirt stepped on the car's accelerator and drove away from the villa.
The brightly lit house in the rearview mirror was getting further and further away, like a warm and happy trap.
He Qiao retracted his gaze and calmly looked at the road ahead.
He knew that He Qiao and Chi Xueyan in the novel didn't have a successful blind date. There was nothing about dental care or a late-night meal. The two of them didn't even exchange contact information.
Later, He Xiao arranged other people for him one after another. Their conditions were all similar to Chi Xueyan. They were rich second generations with a strong personality and no intention of doing the family business. However, none of them succeeded. He Qiao narrowly escaped the disaster, but there was an even greater disaster waiting for him.
He Xiao was too careful. Under his quiet observation, He Qiao's every move was restrained. He couldn't show abnormalities, he couldn't suddenly show actions that didn't match his past personality and he couldn't do what he really wanted to do.
He Qiao needed a space of complete freedom.
It was a free space that appeared reasonably and wouldn't be suspected or disturbed by He Xiao.
The noisy wind poured into the car and the dim street lights illuminated the billboards on the side of the road.
In the real estate advertisement with exaggerated words, a young couple hugged each other and smiled at their new house surrounded by mountains and rivers in the distance.
The car passed by. The summer night was hot and silver-gray columns were stained with rust.
On the side of the street full of lights, Chi Xueyan stood under the crimson advertising signboard. He waved toward He Qiao who was walking toward him quickly.
On the signboard was a large pot of steaming hot pot. It was exactly the same as the signboard he glimpsed from the coffee store.
"This is a chain store." Chi Xueyan's tone was relaxed. "I didn't lie to you. The taste is really good, especially this main store."
He noticed that He Qiao had changed his clothes and couldn't help making a joke. "It is good that you didn't come in a suit again."
He Qiao looked a bit embarrassed, as if he hadn't expected to meet again in the evening. He explained, "My mother made me wear that. She said it was more formal."
"This suits you better," Chi Xueyan said. "Shall we go in?"
He was about to turn around and walk into the hot pot restaurant. Then he caught a glimpse of He Qiao's stiff expression and his eyes shifted straight to him, as if seeing something incredible.
Chi Xueyan was at a loss. "What's wrong?"
He Qiao was still looking at him with an indescribable complex emotion in his eyes. "The collar of your clothes…"
Chi Xueyan reached out to touch the collar of the black t-shirt and he instantly felt a sticky wetness.
He looked down and found that his fingertips were stained with a bright red thick liquid.
Chi Xueyan: "……"
In this chaotic night of ups and downs, the fake blood from the bar party was completely ignored by him.
Chi Xueyan was silent for a moment as he stared at the shocking blood on his fingers. Then he said slowly, "If I say that this is fake blood made of corn syrup, would you believe it?"
He Qiao's answer was half a beat slower. "…Yes."
Chi Xueyan heard the insincere emotions behind the words and remembered that he was a vicious villain who did all the bad things that He Qiao previously described. He instinctively wanted to explain that he wasn't that type of person.
However, a pack of tissues was handed to him first.
He Qiao pointed to his collarbone. "You also have some on here."
Chi Xueyan didn't speak again.
He was in a daze for a moment before taking the tissues and walking toward the hot pot restaurant with a smile.
Beside the steaming dining table, the 'bloodstained' balls of tissue exuded a sweet smell as they were swept into the trash can one after another.
Chi Xueyan looked as usual as he ordered dishes, cooked meat and chatted with He Qiao. It was as if he was enjoying an ordinary late-night meal with a friend while chatting casually.
Surrounded by noisy voices, the freshly cut beef rolls fell into the thick, fragrant spicy broth, quickly changed color, and curled up. The dry tofu skin fell into the hot soup and changed its shape gradually, melting into a completely different softness.
In this ordinary moment, Chi Xueyan stared at the hot pot with ingredients constantly rising and falling. Then he suddenly said calmly, "I met Lu Siyi tonight."
He Qiao paused in the action of grabbing food.
He put down his chopsticks and looked over through the blurry steam. "Are you okay?"
For Chi Xueyan, the world had obviously been turned upside down in an instant.
"I don't know," Chi Xueyan replied honestly. "I need more evidence."
The time of being told the story of transmigration and meeting Lu Siyi was too close. If someone was familiar with his personality, it wouldn't be difficult to guess that he would become interested in a stranger focused on calculating formulas in that situation.
—Although he didn't know the point of doing this.
The way he was described in the story was too strange and he couldn't just trust He Qiao's one-sided words like this.
"Are there any more details about me in the novel that you know?" He asked He Qiao. "In particular, something that only I would know?"
Things that hadn't happened couldn't be verified and things that weren't considered secrets had no value.
He Qiao heard these words and seemed lost in thought. Some time passed before he replied softly, "I don't know if there is anything else that no one knows apart from you. There aren't many details about your past life…"
"I can only think of one thing." There was uncertainty in his expression. "It is a very small thing."
Chi Xueyan waited patiently for him to continue.
"On the night of your 5th birthday, you sat on the sofa and ate a cake. You accidentally fell asleep with a fork in your hand. As you were half asleep and half awake, you vaguely saw your mother taking the camera brought over by your father. She held back a smile and took a photo of you. Your father took the opportunity to kiss her on the cheek and the camera shook, so you appeared on the edge of the photo and your appearance was a bit blurry. Nevertheless, you really like this photo."
He Qiao finished speaking and hesitated a bit. "I don't know if this is the detail you want. Perhaps you mentioned it to others—"
His words came to an abrupt end.
It was because he saw the almost frozen disbelief on Chi Xueyan's face.
Everything seemed to be still and the face that was originally reddened by the heat suddenly turned pale. Blood faded away from his face.
He Qiao clearly saw sweat slipping down Chi Xueyan's face to his collarbone and then seeping into the collar that still had a dark red color remaining on it.
It took Chi Xueyan a long time to find his voice.
"Is this what I told Lu Siyi?" He asked slowly. "One day in the future, I told him this personally?"
He Qiao kept silent and lowered his head.
Chi Xueyan gradually recovered his usual tone and spoke softly, as if talking to himself. "If this is the case, I will definitely like him very much in the future."
It wasn't just liking but love.
The story behind his 5th birthday photo was his first and most profound memory of love.
So far, he had never mentioned it to anyone. He just seriously imagined that on an ordinary day in the future, he would laugh and talk about this small event with his lover, who was lying beside him on the sofa. He would talk about the little boy covered with cream in the photo and the kiss outside the photo that was stored in his memory.
Everything that He Qiao told him was true.
Chi Xueyan closed his eyes and took a deep breath. Once he opened them again, the uneasy pallor on his face was gone.
He calmly looked at the man with a complicated expression opposite him and asked in a cautious tone, "Can I trouble you with one more thing?"
He Qiao replied quickly. "Yes."
The next morning.
It was the VIP area of the medical examination center so there weren't many guests.
The inspector guided He Qiao through the physical examination process in a dedicated manner. Chi Xueyan leaned against the door and looked at the physical examination process sheet in his hand while waiting for He Qiao to come out of the electrocardiogram room.
The moment the door opened and he saw He Qiao coming out of the room, the electronic sound of the next guest coming from behind him as usual, his mood seemed to calm down again.
After last night's verification, Chi Xueyan completely believed He Qiao's story. It was inevitable that he would suddenly feel unfamiliar with the world he had lived in for more than 20 years. He lacked a sense of reality that he was breathing at this moment.
Perhaps it was his instinct as a doctor that made him wonder if, as an outsider, He Qiao would be different from the people in this world?
Or as characters of the novel, would they be different from He Qiao outside the novel?
He tried to touch the illusory feeling from that fantasy story.
However, everything worked fine.
The medical examination report might be released later, but the other physical examination results could be known on the spot except for the items that still needed to be tested.
None of the doctors regarded He Qiao as strange.
He Qiao walked out of the examination room and looked at the medical examination form in Chi Xueyan's hand, "What is the next item?"
The inspector on the side took the initiative to give a reminder. "Now, you can go and have your blood drawn. You can eat breakfast after having your blood drawn. The place to draw blood is over there."
He Qiao followed her guidance and was about to sit down in front of the blood drawing table, only to be stopped by Chi Xueyan.
"I don't think there is any need to draw blood." Chi Xueyan was grateful about He Qiao's full cooperation but he was also a bit apologetic. "Thank you for being willing to come today."
He Qiao understood what he meant but sat down anyway. "It's fine. I really should do a check."
This was an angle he hadn't considered before Chi Xueyan mentioned it.
He watched as the nurse tied a tourniquet around his arm.
Chi Xueyan stood to the side and watched him, eyes flickering slightly.
The needle tip pierced the skin and dark red blood flowed into test tubes of different colors. The illusion gradually became real.
Chi Xueyan thought he seemed to be beginning to accept the series of changes that happened yesterday.
He decided to accept the bizarre-sounding plot of the novel as a harbinger of his future destiny.
It was one of the most complete and accurate fortune-telling.
The test tubes filled with blood were neatly arranged on the rack. There was the faint chirping of birds outside the window and the green leaves of the trees fluttered. Light and shadows scattered and the flowing scenery all fell into the eyes of the red-haired young man.
He took two cups of water from the water dispenser. One was for He Qiao and the other was for himself.
The taste of the water was clear and sweet, just like in the past.
Then he slowly squeezed the disposable plastic cup and threw it into the trash can.
The first step to getting rid of his fate started with refusing the simple breakfast the medical examination center provided.
Chi Xueyan knew that there was a good breakfast place nearby and it only took a few minutes when walking.
He Qiao said, "You seem to be familiar with the food here."
"Eating is a major life event," Chi Xueyan said casually. "Yesterday's hot pot wasn't bad, right?"
"Yes."
The morning sun was just right. On the way to the breakfast restaurant, the two of them talked like ordinary friends.
"You said I was the worst villain." Chi Xueyan was curious. "Are there any other villains besides me?"
"Yes, my older brother." He Qiao answered. Then he added rigorously, "He is He Qiao's half-brother, He Xiao."
A hint of surprise flashed on Chi Xueyan's face. He finally knew the indirect connection between He Qiao and the story. "Does he also like Lu Qiyi?"
"That isn't it," He Qiao answered. "He likes the other protagonist of the novel."
Chi Xueyan thought for a moment before commenting in a pertinent manner, "Each person has a love rival, which is very fair."
He didn't know if the book transmigrator in front of him tried to change his brother's fate.
"How did he end up?"
The question made He Qiao fall silent for a while before he answered, "It isn't too bad. He finally…"
Chi Xueyan sensitively noticed what he hadn't finished saying and joked, "He corrected his evil ways?"
He Qiao briefly confirmed it.
The ending was indeed much better than him, who died after having nothing.
In the subtly still air, Chi Xueyan's voice became more relaxed. "What about you? What character are you in the story?"
When answering this question, He Qiao avoided meeting Chi Xueyan's gaze. He looked down at the skin where blood had just been drawn and gently removed the tape covering the cotton ball.
"An insignificant little supporting role."
The pinprick on the inside of the elbow was faintly red and the bleeding had stopped.
Chi Xueyan followed his gaze and suddenly remembered the 'blood' that flowed from his collarbone last night.
"It was really syrup last night." He revisited the old story with a smile. "It tastes very sweet."
"Yes." He Qiao nodded. "I smelled it."
Then Chi Xueyan asked, "Are you afraid of me?"
He Qiao shook his head without hesitation.
In the hot daylight, Chi Xueyan's gaze moved from the arm that was close at hand to He Qiao's handsome face.
He seemed to smell sincerity.
Thus, Chi Xueyan stopped and stared into the other person's bright and calm eyes.
A few seconds later, he smiled. It was as if he had met a fishtail swinging by some coral, lingering with the fragrance of the ocean. His voice revealed a rare softness and warmth.
He smiled before asking, "Then are you willing to marry me?"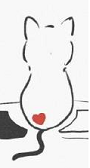 https://www.patreon.com/WhiteLily476