Li Yayi's mood was quite different from the last time when she knocked for a second time on the door that still had the Spring Festival couplets attached to them.
She exchanged looks with her cameraman colleagues next to her. They both knew the special features of today's interview.
The protagonist in the lens would be an intelligent robot.
If they were lucky, maybe two.
There was a short wait and the door opened. Li Yayi was ready to greet Pei Qingyuan. Her eyes were about to sweep over his previously completely ignored wrist without a trace, looking for a mysterious black watch.
However, she saw an unfamiliar face beside Pei Qingyuan.
"Good afternoon." Pei Qingyuan's voice was flat.
The young man next to him also followed him. "Good afternoon~"
Two very different voices stacked together. One was obviously cold and the other warm but there was a strange harmony.
Li Yayi was stunned before quickly saying, "Long time no see. I am disturbing you."
This family, which originally had Pei Qingyuan living alone, suddenly had an extra member.
She looked around curiously. The funny, handwritten Spring Festival couplets pasted on the kitchen door, the jelly bean robot on the workbench and the dolls and cute decorations that could be seen everywhere were still present, but there were a few more things.
For example, various reference books spread out on the coffee table, there was a large plate of fragrant, fresh fruit, volleyballs placed in a corner of the living room and a pair of bracers and knee pads thrown on a chair.
There was more of a youthful atmosphere in the warm room.
Li Yayi remembered that there was no such person from the mouths of the students who knew Pei Qingyuan.
During this time, she had occasional contact with Pei Qingyuan. She didn't feel too awkward so she asked curiously, "Is this your relative?"
Pei Qingyuan replied, "No, a friend."
He saw what she was thinking from the sudden realization in Li Yayi's eyes and added, "A new friend made during the holidays."
The young man immediately came up to greet her. "Hello, my name is Ji Tong."
Li Yayi quickly responded but her heart was even more dazed.
It turned out that during the holiday, Pei Qingyuan did go on a trip with a friend in a real sense.
So what about the watch?
Before the interview officially began, Pei Qingyuan dispelled her attempt to stare at the black dial with a calm sentence, "It is just a watch."
He didn't acknowledge the speculation online.
There was also no outright denial.
Li Yayi had witnessed the emotion flowing from Pei Qingyuan's eyes on the day of the interview and didn't think he was lying.
Perhaps Pei Qingyuan didn't want to make the secret of the watch public and decided to avoid it, just like his family problem. It was just a coincidence that he met new friends during the holidays.
However, the relationship between the two of them was filled with a natural and casual atmosphere. It was as if they had known each other for a long time. With her understanding of Pei Qingyuan, this cold provincial champion didn't look like a character who would quickly get close to a new person.
Li Yayi and her cameraman colleague felt confused but they could only obediently point the lens at the jelly bean robot.
Outside the camera, Pei Qingyuan temporarily relaxed the standby mode permissions for the jelly bean robot. This allowed the jelly bean robot, who didn't need to be awakened by her name, to interact with Li Yayi for the time being. Meanwhile, he concentrated on staying by his friend's side.
The fair-skinned boy carefully flipped through the documents in his hand and silently recited something. Pei Qingyuan occasionally helped him mark a few key points on the paper.
There was a special atmosphere between the two of them, as if there were no extra people or things around. No one could affect that corner covered with sunlight.
During the filming interval, Li Yayi couldn't help looking over curiously. She learned that Ji Tong was preparing to participate in the auditor exam of the school of artificial intelligence of Jiangyuan College.
It was artificial intelligence again.
At a certain moment, Li Yayi was in a trance and almost had an absurd thought. Ji Tong was actually the body of the watch AI that had accompanied Pei Qingyuan for a long time.
Everyone knew that this was impossible.
Ji Tong was clearly an ordinary human. No matter how cutting-edge technology was at present, it was impossible to create a bionic robot at such a level, not to mention that Pei Qingyuan was just a recent high school graduate.
At the end of the day, Li Yayi's heart was half filled with the surprise brought by the jelly bean robot and the other half was the increasingly mysterious mystery.
Many puzzles were derived from the initial, inconspicuous interview view. There was a variety of intertwined information and netizens chose an answer they liked. They laughed or cried for it.
The answer obviously couldn't be confirmed by Pei Qingyuan here.
The most memorable thing was the uncertain story.
Li Yayi thought that many people would remember this summer: a high school student who spoke little to the camera and the unresolved strong emotions.
Before leaving, she couldn't hold back her curiosity after all and she whispered, "Can I ask how you and Xiao Ji met?"
Pei Qingyuan looked at her quietly. "That is another story."
A story that only they knew.
As the door closed, Li Yayi saw the young man in front of the coffee table dejectedly throw away the paper and pen in his hand. He held a bowl of freshly peeled pomegranate seeds and nestled into the sofa to avoid eating.
The little fruits were like bright hearts under the sunlight.
"I have to trouble you later," Pei Qingyuan finally said to her.
In the midst of the mixed emotions of regret and satisfaction, Li Yayi finished today's work and turned to leave.
For the first time, she felt that Pei Qingyuan's choice of the artificial intelligence major was a waste.
He clearly knew more about humans than he did about robots without feelings.
After the release of the latest interview video, it didn't cause any waves among ordinary netizens at first like Li Yayi expected.
There wasn't much dialogue between the jelly bean robot and Li Yayi in the forum and there weren't too many unexpected, funny contrasts. Since Pei Qingyuan let go of more of the action permissions and at Li Yayi's request, the jelly bean robot gave her four different types of dances.
The robot with a colorful oval body wore a cap and had excellent sound quality. It wielded its short robotic hands and long mechanical legs. It shook its legs and hands for a while, performing a dumb moonwalk. This amused the female reporters outside the camera.
However, these flexible robot dances could only bring about short-term novelty in the eyes of ordinary people. One dance was interesting but four were repetitive.
Some netizens had been looking forward to the function of the jelly bean robot and were inevitably a bit disappointed. Some of them didn't even finish watching the video.
[I thought there would be some special function. It turns out to just be dancing.]
[Please, this is a robot made by a high school student himself. I think it is already very powerful.]
[The most distinctive thing is this strange shape. I saw it sold on the Internet and it looks exactly the same. I just placed an order.]
[Don't buy copycat pirated copies…]
This was until a blogger who was certified as a mechanical expert reposted the video.
[The limbs of this robot have incredible stability and flexibility. The entire structure and design are extremely simple and beautiful. Forget a high school student, even the judges of the Robot World Cup for college students will doubt the level.]
Ten minutes later, he posted screenshots of the pirated copies flooding shopping websites and asserted that:
[Don't buy this garbage. Chasing piracy is killing originality. These two aren't comparable at all except for the easiest to copy appearance. I will change my surname to the high school student's surname on the spot if these 200 yuan copycat robots can walk stably for 10 seconds without falling to the ground.]
After discovering the video, many experts in the same field joined the discussion.
[It is really powerful but it can't be made by a teenager. This design is ingenious. Which teacher was the helper?]
[Few people dare to do such a long leg design. The higher the center of gravity, the more difficult it is to maintain balance. It is difficult to lift the legs and walk but this one can actually dance. It is terrible.]
…….
In this relatively professional field, the comments of the netizens based on their own vision and cognition were becoming more and more uncontrollable. It was most likely to be contradictory to the facts.
These advantages that mostly attracted the attention of ordinary people and were praised as incredible were exaggerated. For example, chatting with AI that was as playful and flexible as humans. In reality, it was basically the voices of real people behind the scenes.
The real breakthroughs were limited by the lack of understanding of professional knowledge. Ordinary people mostly couldn't figure it out and instead regarded it as commonplace.
Then after professionals pointed it out, netizens would suddenly increase their efforts to pursue it.
At the very least, they were the second batch of people to see the extraordinary.
They were still smart.
Ji Tong looked at the long series of messages sent by Li Yayi to the host and her eyes widened in surprise.
Since Pei Qingyuan didn't have any public contact information, many companies that wanted to find him to authorize the mass production of this robot, and even the experts and professors of some colleges, could only find Li Yayi first. They hoped to contact the real maker of this robot, whether it was Pei Qingyuan or someone else.
Pei Qingyuan read through these messages in an expressionless manner but his tone was soft when he raised his head to look at the person beside him. "The design drawing you gave me is very good. It is your credit."
Ji Tong thought about it and decided to accept the compliment happily. He nodded in reply, "I can take one-third of the credit."
It all started with the design drawing of the long-legged bowl.
Ji Tong's original intention was just to eat more conveniently.
Sure enough, appetite was the driving force of human progress.
"Why one-third?"
"Which one is the host going to authorize the robot to?"
The two people spoke at the same time. Pei Qingyuan was stunned before answering the question first. "I haven't thought about it yet. I need to understand each interested company first."
After all, his contact time in the field of artificial intelligence was too short. The built-in AI of the jelly bean robot was improved on the basis of components that could be bought on the market and wasn't completely self-developed. There was no condition to do massive data training so it wasn't very smart. There was a lot of room for optimization in the future.
Ever since Pei Qingyuan had sent out the partial design drawing for help in the robot enthusiast forum and received a warm response, he realized that the mechanical part of his jelly bean robot was more valuable than the AI.
So when Li Yayi came for an interview, the authority he opened for Xiao Mei was mainly in the aspect of completing actions according to instructions. He hoped to highlight the ability to move.
The online influence of the video was no longer important. Right now, it was more important to have a clear monetization path.
So far, this strategy had been successful.
In terms of the shell and mechanical performance alone, the jelly bean robot had a unique commercial value.
As for Ji Tong's wish, that would be Pei Qingyuan's goal in college.
He would keep learning, upgrading and optimizing the built-in AI until it became smart enough to truly accompany a lonely human child.
After hearing that the host hadn't decided on who to cooperate with, Ji Tong immediately turned on the search mode. A moment passed before he said excitedly, "I have a good candidate. At the very least, there will be no problem with his character."
He felt that the credit for the success of the jelly bean robot should be divided into three parts.
One-third was for him who took out the blueprint.
One-third was the host who brought the blueprint to life.
The last one-third was the one who sent the cap, the source of all of this.
If it wasn't for the cap that was a speaker, Ji Tong wouldn't have thought of this magical shape and he might not have thought about letting the host build a robot with his own hands to decompress.
Of course, the source of everything should actually be Fang Hao, the elementary school student who wore the cap.
Pei Qingyuan quickly realized who he was talking about.
Ji Tong recalled the news he saw when he searched for that name just now: the rise in smart homes, crowding out the existing market, traditional home appliance companies were facing a cold winter, a transformation was imminent…
He said, "I think it should be a good thing for him."
Pei Qingyuan naturally wouldn't refuse Ji Tong's proposal.
"Okay."
In the evening, Deng Shu had just left the factory room when he saw an unfamiliar number on his mobile phone screen. He hesitated before answering it.
He thought it was another dealer who wanted to delay payment by complaining that the market wasn't doing well. He hadn't expected a very young voice to come from the other end of the phone.
"Hello, is this… Mr Deng?"
The other person paused when deciding how to address him.
Deng Shu said politely, "That's me. Who are you?"
"I am Pei Qingyuan."
With this calm voice, some memories that had gradually been sealed up by his busy days appeared in Deng Shu's mind.
He remembered his son Deng Letian, who had been repeatedly bullied by punks, only to be saved by a kind high school student. This high school student encouraged his son to tell an adult about these things.
After accidentally learning the identity of the high school student, he decided to thank the other
person in a more tactful way.
Deng Shu set up a number of scholarships at the high school and made the cap speaker that Deng Letian insisted on giving to the brother in a cap.
There were two letters in the gift box that contained the speaker, one from the father and the other from the son. In the letter written by Deng Shu, he had attached his contact information and said that Pei Qingyuan was free to contact him at any time if help was needed.
This was the first time Pei Qingyuan had made a call.
However, the one who might need help might've already changed.
Deng Shu stood in the wind and listened to the phone. His expression gradually changed from surprise to joy.
Ji Tong, who had been holding back his laughter for a long time, spoke into the host's ear when he finished this long phone call, "Host, did you want to call him Uncle Deng at first, but you felt it was very strange so you temporarily changed your words?"
"……" The exposed Pei Qingyuan maintained a calm expression. "It is more formal to call him Mr Deng."
"Oh—"
Ji Tong lengthened his tone before changing the topic. "Host, will you also become Mr Pei in the future? Or President Pei?"
The moment he said these slightly distant titles with reverie, Pei Qingyuan's heart skipped a beat slightly.
In the next second, the palm with heat gently rubbed the soft hair close to him. It was just like in childhood.
As an adult, Ji Tong hadn't yet reacted to this slightly ambiguous action when he heard the host saying a cold sentence in his usual tone, "The day after tomorrow is the exam and you haven't finished studying."
He suddenly forgot about his 180 cm hairstyle that was suppressed and said desperately, "…Can I study again tomorrow?"
Pei Qingyuan's answer was concise. "Professor Xiao is very curious about my auditor friend. You can't show any mistakes."
Ji Tong had to return to the sofa in a sluggish manner. He picked up the information that Pei Qingyuan had prepared for him and stared straight at it.
Preparing for an exam was a real pain.
He had no experience with this type of thing and needed to familiarize himself with the interview FAQ and process in advance. He had to keep it in his head rather than just throwing it into the data.
Moreover, it was necessary to complete the operation in reverse and to clear out some knowledge that was far beyond the level of science and technology of this world. This way, he wouldn't accidentally say something that would shock everyone.
Suddenly, he didn't want to be a college student.
Or the freedom of AI.
Hua Hua meekly burrowed into Ji Tong's arms and rubbed against his melancholy face with furry ears.
The familiar aroma of crayfish came from the kitchen.
Ji Tong, who was pretending to be studying, looked at the kitchen eight times in two minutes. This was until the host's faint voice was heard. "We are eating in an hour. Read ten pages before then."
Ji Tong quickly retracted his gaze and looked down to go through the information in a serious manner.
…The host really knew him too well.
He could do it for the crayfish's sake.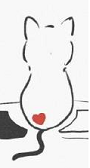 https://www.patreon.com/WhiteLily476